Hey guys! I recently ordered Laura Mercier Silk Creme Foundation in Soft Ivory and have anxiously been awaiting its arrival. Today, finally, it arrived! I've been so excited waiting for it, as it seems to be a big hit.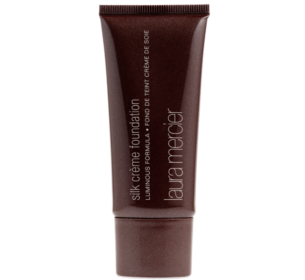 I got it in the lightest shade, as I'm quite pale and the others seemed way too dark for me - I was worried it would be too pale but that wasn't an issue here, it was a perfect match!
The formula is beautiful, it's a full coverage foundation that hides any acne scars or redness, and doesn't dry out my dry skin - and doesn't hug dry patches. Although it's full coverage, the formula is light; so light that I can hardly feel its presence on my skin - a contrast to another favourite of mine, MAC Studio Fix Fluid.
Here's a picture of me with it on, sorry for the filter - my front camera was blurry and didn't look right normally. Also excuse my massive spot! Although, it hasn't dried up with the foundation on, which is wonderful!